CAC's No. 1 (St. John Bosco) and No. 2 (Mater Dei) Clash This Friday Night
October 10, 2018, 11:46 am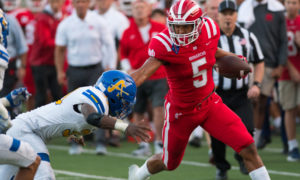 CAC's No. 1 (St. John Bosco) and No. 2 (Mater Dei) Catholic high school football teams will meet this Friday night (October 12) in a clash between two power programs in the Trinity League.  More than 10,000 fans are expected to watch the game at the Santa Ana Bowl.
CAC's new top 25 Catholic High School Football poll, presented by Siena Heights University and Global Football, was released earlier today and includes No. 15 Good Counsel (Olney, Md.), which made the biggest climb, moving up 10 slots, after a quality league win. No. 10 JSerra (San Juan Capistrano, Calif.) also received a healthy bump of six slots moving back into the Top 10 for stellar play in one of the nation's top leagues. No. 16 Gonzaga (Washington, D.C.) dropped eight spots and out of the Top 10 and No. 25 St. Joseph Regional (Montvale, N.J.) fell seven after losses.
This week's Top 10 teams in the ranking are:
St. John Bosco, Bellflower, Calif. (7-0)
Mater Dei, Santa Ana, Calif. (6-1)
St. John's College, Washington, D.C. (6-0)
Archbishop Hoban, Akron, Ohio (7-0)
De La Salle, Concord, Calif. (7-0)
St. Thomas Aquinas, Fort Lauderdale, Fla. (5-1)
St. Frances Academy, Baltimore, Md. (3-0)
St. Joseph's Prep, Philadelphia, Pa. (4-0)
Saint Louis, Honolulu, Hawaii (7-0)
JSerra Catholic, San Juan Capistrano, Calif. (6-1)
For more information on this week's CAC Catholic High School Football Top 25 and each team, click here.