About CAC
Launched in 2006, Catholic Athletes for Christ (CAC) serves Catholic athletes in the practice of their faith and shares the Gospel in and through sports.  We work with athletes at all levels of sport in an effort to promote a Catholic sports culture.  We are supported and endorsed by an Episcopal Board made up of Cardinals and Bishops from across the country.  CAC was formed in response to St. John Paul II's call to evangelize the world of sports and his establishment of an office dedicated to Church and sports in 2004.
As St. Paul's epistles teach us, Christ is God's true athlete and we are made perfect when, and only when, we imitate Him.  St. John Paul II advises us that "Every Christian is called to become a strong athlete of Christ, that is a faithful and courageous witness to His Gospel."
We invite you to join us as a "Cathlete" for Christ!
Ray McKenna
President/Founder of Catholic Athletes for Christ
Core Programs and Events
Sacramental Ministries for Professional Athletes
CAC organizes and sponsors Confession and Mass for Catholic professional athletes during the Major League Baseball (MLB) and National Football League (NFL) seasons.  CAC has led the effort to organize and ensure regularly scheduled Catholic Mass for nearly every MLB and NFL team at the stadium for players, coaches, and team/stadium personnel.  Additionally, CAC Priest Chaplains serve the athletes by providing spiritual direction and meeting their other sacramental needs.
---
Cathletes™ High School Chapter Program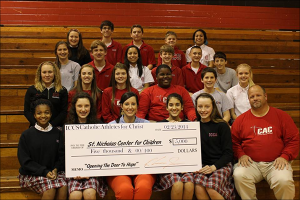 CAC has developed its Cathletes™ chapter program for high schools across the country, including diocesan-wide programs.  The Cathletes™ curriculum is based on Catholic sports principles and was designed by CAC, with the support of athletes and coaches, in response to the request from bishops and school administrators across the country seeking an authentic Catholic sports program. Cathletes™ chapters regularly perform service projects and have opportunities to interact with CAC professional athletes and coaches.
---
Speakers Bureau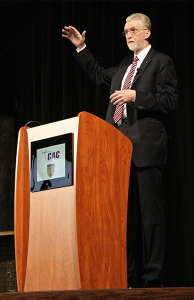 CAC's speakers bureau includes more than 50 dynamic Catholic athletes chosen for their integrity, dynamism, love for their Catholic faith, and sports accomplishments. CAC's goal is to assist prospective event planners in finding the best speaker for their event. Potential opportunities for speakers include keynote addresses, conferences, diocesan or parish events, fundraisers, school events, youth or collegiate functions, and sports camps and clinics.
---
Annual Retreats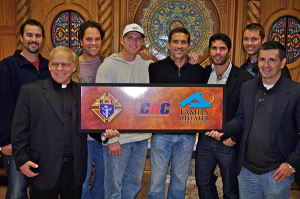 CAC hosts annual retreats for current and former professional athletes, coaches, scouts, and team personnel, along with CAC's cadre of Priest Chaplains, to encourage spiritual formation and growth.
---
Courage Awards
CAC annually hosts Courage Award receptions to honor professional Catholic athletes for being exemplary members of the Catholic Church community and sharing the Catholic faith with others both in words and actions.  In addition, local Catholic high school and college student athletes are honored for their academic, athletic, and service accomplishments.
---
Service-Related Partnerships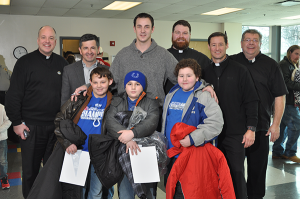 CAC regularly partners with leading Catholic organizations, including the Knights of Columbus and Special Olympics, to provide support and assistance for charitable events to assist and serve the less fortunate. Charitable events co-sponsored by CAC include a mini-NFL football combine and flag football game for Special Olympians and distribution of coats to needy children in U.S. cities with the support of its Catholic professional athletes through the Knights of Columbus' "Coats for Kids" program.