CAC Honors MLB's Craig Stammen and Local HS and College Cathletes at Courage Awards Event, December 13
December 6, 2015, 12:28 pm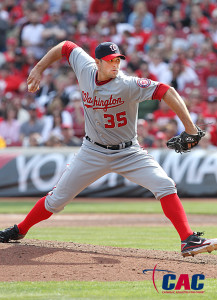 On Sunday evening December 13, Catholic Athletes for Christ (CAC) will be hosting its fifth annual Courage Awards reception to recognize major league baseball's Craig Stammen for his distinguished athletic achievement and also for boldly sharing the Catholic faith. The event also honors high school and college senior student-athletes in the Arlington (Va.) Diocese.
The event will take place at Marymount University in Arlington, Va., beginning at 5:30 p.m. (click here for flyer). Tickets may also be purchased in advance (see below).
Stammen, a relief pitcher formerly with the Washington Nationals, is being honored for leading the Nationals Catholic ministry since his arrival to the team in 2009 and also serving the local Catholic community throughout his time in Washington, but especially in 2015 by speaking regularly to Catholic students at Arlington Diocese elementary and high schools.  In addition, Craig was instrumental in the success of CAC's Catholic Baseball Camp held at Paul VI High School on July 24.  Craig suffered a season-ending injury in 2015 and used this opportunity to advance his evangelization efforts.