Athlete Advisory Board
Mike Sweeney
MIKE SWEENEY (Chairman) is the former captain of the Kansas City Royals and a five-time Major League Baseball all-star first baseman. Retiring from the game in March 2011, Mike spent his first 13 years in the majors with the Royals, before finishing his career with the Oakland Athletics, Seattle Mariners, and Philadelphia Phillies.  In 2015, he was selected as the 26th member of the Royals Hall of Fame. He now works as a special assistant for the Kansas City Royals and also runs his Catholic Baseball Camp organization.  Mike is a cradle Catholic and loves to share his faith at every opportunity. He remains fully committed to sharing the Gospel through athletics to all fellow believers in Christ. In Mike's words, "the Eucharist is our common language of communication. Provision of Holy Communion allows athletes to transcend language and other communication barriers and truly unite as one body in Christ. It supernaturally penetrates the hardness of hearts, permeates the receptive soul and promotes tolerance of differences."
---
Jeff Suppan
JEFF SUPPAN (Vice Chairman) is a former Major League Baseball pitcher who played for the Boston Red Sox, Arizona Diamondbacks, Kansas City Royals, Pittsburgh Pirates, St. Louis Cardinals, Milwaukee Brewers, and San Diego Padres. In 2006, Jeff helped lead the St. Louis Cardinals to a World Championship and was named Most Valuable Player of the National League Championship Series. Jeff, a cradle Catholic and a product of a Catholic school education, was the first athlete to participate in the Vatican's first-ever conference on Sports in 2005. Jeff is currently serving as a pitching coordinator in the Kansas City Royals organization.
---
Sal Bando
SAL BANDO was a four-time all-star third baseman and captain of the three-time World Champion Oakland Athletics (1972-74). His playing career spanned 16 years with the A's and the Milwaukee Brewers. He also served as General Manager for the Brewers and now resides in Milwaukee and Phoenix, Ariz.
---
Lauren Bauer
LAUREN BAUER played softball at the University of Arizona from 1998-2001 and was a member of the 2001 National Championship team. She was a four-time All-American and an Academic All-Pac10 student-athlete. Lauren competed as a member of the 2001 U.S. National Softball Team and was named "Softball Athlete of the Year" by the United States Olympic Committee. After playing softball at the professional level, she retired in 2005. Lauren is excited to be able to share her faith with others through the Catholic Athletes for Christ Speakers Bureau. Lauren's goal each day is to make Christ the center of her life. Her motto is to "learn, live, and love the faith".
---
Lou Carnesecca
LOU CARNESECCA won 536 NCAA basketball games over 24 seasons as the men's basketball head coach at St. John's University. His teams reached the post-season in every season he coached the team, including a Final Four appearance in 1985. Lou was selected as the National Coach of the Year in 1983 and 1985 by the U.S. Basketball Writers Association. He was elected to the Naismith Memorial Basketball Hall of Fame in 1992. "Little Louie" still serves as a goodwill ambassador for St. John's and is widely respected for his decency and humanity all throughout the basketball world. He is a daily communicant and retains a strong and vibrant love and devotion to the Catholic Church.
---
Jack Del Rio
JACK DEL RIO spent 11 years playing linebacker in the National Football League and was selected to the Pro Bowl in 1994. He retired from playing in 1996 and went into coaching, serving in a variety of positions for several different NFL teams. Jack and his wife, Linda (member of CAC's Board of Directors) have three daughters, Lauren, Hope, and Aubrey, and a son, Luke. Jack thanks the late Monsignor Reynolds of New Orleans for "patiently leading me through the scriptures and answering my many questions about the Catholic faith. I am a proud Catholic man today thanks to him."
---
Rebecca Dussault
REBECCA DUSSAULT competed for the U.S. Olympic team in cross-country skiing in the 2006 winter games in Turin, Italy. Among her ambitions are to live a life of heroic virtue to become a saint. She loves to evangelize at all times and has a special devotion to Blessed Pier Georgio Frassati.
---
David Eckstein
DAVID ECKSTEIN was a Major League Baseball infielder for 10 seasons and helped lead two teams to a world championship – the Anaheim Angels in 2002 and the St. Louis Cardinals in 2006. He was named the Most Valuable Player of the 2006 World Series. At 5'7", David was told that he was "too small" to play at every level of baseball since little league. Yet his talent and fierce competitiveness allowed him to excel in the major leagues. His manager in St. Louis, Tony LaRussa, described David "as the toughest guy I've ever seen in a uniform." David loves the Catholic Church and its teachings and he is especially touched by the Scriptural guarantee that the Lord will never burden us with more than can we handle. David is married to professional actress Ashley Drane.
---
Eddie Gaven
EDDIE GAVEN is a retired American soccer player who played 11 seasons in Major League Soccer, primarily with the Columbus Crew. In July 2012, Gaven became the youngest player to play in 250 MLS matches at 25 years and 257 days old. Eddie has a strong devotion to the Blessed Mother and loves to pray the rosary.
---
Alyson Habetz
ALYSON HABETZ is the assistant head softball coach at the University of Alabama, where she helped lead the Crimson Tide to the Division I National Championship in 2012. Alyson played professional baseball for the Colorado Silver Bullets and the Long Beach Aces. Her "uncle," Hall of Fame Major League Baseball legend Tommy Lasorda, has mentored her career. She was inducted into the West Alabama Softball Hall of Fame in 2019. Alyson loves to evangelize and has a special devotion to the Blessed Mother and the rosary.
---
Chris Horn
CHRIS HORN was an NFL wide receiver for the Kansas City Chiefs, New Orleans Saints, and Carolina Panthers. He is involved in evangelization and his family prays the rosary daily and has a special devotion to St. Bridget.
---
Terry Kennedy
TERRY KENNEDY was a four-time all-star Major League Baseball catcher who played for the St. Louis Cardinals (1978-80), San Diego Padres (1981-86), Baltimore Orioles (1987-88), and San Francisco Giants (1989-91). In a 14-year career, Kennedy hit .264 with 113 home runs and 628 RBI in 1,491 games. Kennedy tied Johnny Bench's National League mark of 40 doubles in a season in 1982. That same year Kennedy won the Silver Slugger Award. He appeared in four All-Star games (1981, 1983, 1985, and 1987) and played in two World Series (1984 with the Padres and 1989 with the Giants). Terry and his wife Theresa reside in Phoenix, Ariz., and are active members of the Diocese of Phoenix.
---
Jack McKeon
JACK McKEON is a former Major League Baseball manager. When "Trader Jack" took over as manager of the Florida Marlins in 2011 at age 80, he became the second oldest manager in major league history, behind only Connie Mack. During his previous stint with the Marlins from 2003-2005, Jack led the team to a world championship in 2003. He also managed the Kansas City Royals, Oakland Athletics, San Diego Padres, and Cincinnati Reds. Jack was named National League Manager of the Year in 1999 and again in 2003. He is also the author of two books about baseball and has a special devotion to St. Therese of Lisieux and the Blessed Mother.
---
Darrell Miller
DARRELL MILLER is the Vice President of Youth and Facility Development for Major League Baseball.  He is instrumental in the developing of MLB's Urban Youth Academies across the country. Darrell played major league baseball in the 1980s for the California Angels and also was a major league scout for the Angels. He is currently in deaconate training in the Diocese of Orange (Calif.) and is a regular speaker for CAC at men's conferences.
---
Mike Piazza
MIKE PIAZZA is recognized as one of Major League Baseball's best players of the late 20th century. A 12-time All-Star and 10-time Silver Slugger Award winner, Mike is often regarded as one of the best-hitting catchers of all time and holds the record for home runs hit by a catcher, with a career total of 427. Mike played for the Los Angeles Dodgers, Florida Marlins, New York Mets, San Diego Padres, and Oakland Athletics, before retiring in 2008. He shares a desire to spread the "good news" through athletics.
---
Vinny Rottino
VINNY ROTTINO is a former Major League Baseball player, currently serving as a scout in the Texas Rangers organization. A native of Racine, Wis., Vinny played for his hometown Milwaukee Brewers from 2006-2008, before playing for the Florida Marlins, New York Mets, and Cleveland Indians. Vinny is a cradle Catholic and very interested in sharing the faith with others, especially the young members of the church. He loves attending Mass and is thankful for the special graces the Lord bestows through the Mass.
---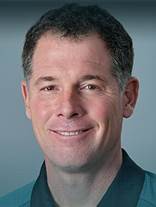 Pat Shurmur
PAT SHURMUR is currently the offensive coordinator of the Denver Broncos.  Shurmur previously served as head coach of the New York Giants and Cleveland Browns. During his collegiate career, Shurmur was an all-Big Ten center at Michigan State. He loves his Catholic faith and is interested in sharing that faith through football.
---
Craig Stammen
CRAIG STAMMEN currently pitches in the major leagues for the San Diego Padres.  A native of North Star, Ohio, Craig played football, basketball, and baseball at Versailles High School and then continued his baseball career at the University of Dayton. He credits much of his career success to hard work, determination, and trusting in God's providence. Craig is a regular attendee of CAC-hosted Masses both at Petco Park and on the road.