CAC Offers Condolences on the Recent Passing of HOF Football Coach Don Shula
May 8, 2020, 2:11 pm
Don Shula (January 4, 1930 – May 4, 2020) 
All of us at Catholic Athletes for Christ would like to express our sincerest condolences to the family of the legendary Don Shula who died yesterday at age 90. We wish to specifically send our sympathy to his son Mike Shula of the Denver Broncos who is a good friend and long-time CAC supporter. Mike's strong faith and stellar integrity are shining examples of his dad's legacy both in the game and beyond football.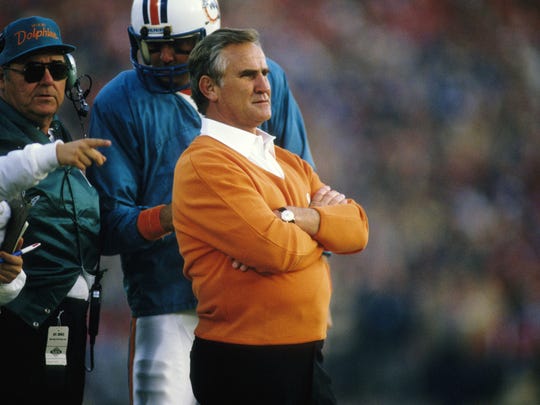 Don Shula's Hall of Fame resume, which includes an NFL record 347 wins including two super victories and an undefeated 1972 season, is well-known among all of us. His strong Catholic faith and sterling character have received much less coverage in the media, but those who knew him best believe they were the foundation stones of his success. Shula actually considered the priesthood before he embarked on his legendary NFL career, and all through the course of his life he was a faithful Catholic who often attended daily Mass during the peak of the season. In Miami, where he spent the last 50 years, Don Shula became a local hero beyond his on-field exploits. Coach Shula and his wife Mary Anne were generous benefactors for the Miami community, especially for the Catholic Church and schools in the Miami area.
Noted sports journalist Brian Golden shared with us his personal recollections of Coach Shula including being right behind him when he received a call from then-President Ronald Reagan. Despite Shula's high-level connections, Golden's most poignant remembrance of Shula was his deep and abiding love for his children and grandchildren. Despite his no nonsense on field persona, Golden recalls how Shula publically downplayed the sentiment of the historic nature of the first-ever father-son game against his son David's Cincinnati Bengals, characterizing it as a "business meeting." Yet Golden vividly remembers that once the Miami bus arrived in Cincinnati, Shula left his bags in the locker room and quietly headed straight to David's house to play with his grandkids.
Our priests will be offering Masses for the repose of his soul. Please remember Coach Shula in your prayers today and throughout this season.
Thank you and best regards in Christ,
Ray McKenna