San Diego Padres Pitcher and CAC Athlete Advisory Board Member Craig Stammen Honored with 2020 Bob Feller Act of Valor Award
November 27, 2020, 1:39 pm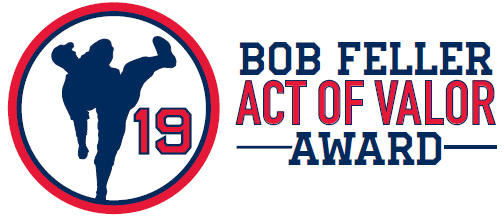 On November 23, 2020, CRAIG STAMMEN of the San Diego Padres and CAC's Athlete Advisory Board was honored with the eighth annual Bob Feller Act of Valor Award. The award honors the legacy of National Baseball Hall of Fame pitcher Bob Feller, who made the selfless decision to put his career in the major leagues on hold so he could serve our country. Each honoree possesses the values, integrity, and dedication to serving our country that Bob Feller himself displayed.
CAC President and Founder Ray McKenna proudly congratulates Craig on this honor. "Craig has been a leader on and off the field, both during his time with the Washington Nationals and now as a member of the San Diego Padres. The Bob Feller Act of Valor Award recognizes Craig's strong conviction in living out his Catholic faith with continual selfless acts as well as his dedication to our Nation's active military personnel and their families. Congratulations to Craig, his wife Audrey, and their family."
Originally entering Major League Baseball with the Washington Nationals in 2009, Craig has been involved with many programs that support our military during his 11-year MLB career including a tour sponsored by the Joint Chiefs of Staff, in which athletes travelled to Afghanistan to thank the troops deployed there. From this experience he partnered with the United Heroes League, in the support of giving back to military families. Through his leadership and this special and strong partnership with the San Diego Padres, Craig personally provides families with a fun night at the Ballpark. Military members have gone on field to watch batting practice and meet with Craig personally and those within the San Diego baseball community.
"I'm very humbled to receive the Bob Feller Act of Valor Award. I'm thankful for the opportunity given to me by the Community Service Department of the San Diego Padres in partnership with my favorite military charity, United Heroes League, to use my platform to serve military families in San Diego. Bob Feller is a great role model and I hope to live up to his standard of service, sacrifice and commitment to making the world a better place."